Angelica Sprocket's Pockets by Quentin Blake – Children's Book Recommendation #2
Meet Angelina Sprocket… She is one of the most eccentric and quirky character whom I ever encountered so far!
WHO IS ANGELICA SPROCKET?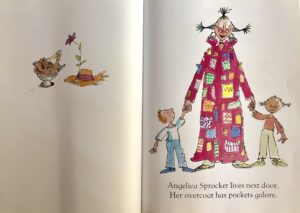 She lives next door whose appearance is very distinctive with her amusing purple long coat full of pockets. She is a personality whose happiness and magic are very infectious to the people around her. To make a guess, I'm pretty sure that she is either a teacher, a magician, an entertainer, an inventor or everything of those. Such a happy and generous soul.
WHAT IS SO SPECIAL ABOUT ANGELICA SPROCKET?
Her pockets galore!
She could pull out almost all the objects we could think, including hankies, umbrellas, towels, pan, pots, boats, skate boards even a kitchen sink. How amazing!
Not just those objects, she could keep animals in her pockets. It could come handy when it's needed. The readers will meet the mice, the ducks, an alligator even a special lovely green-pink-polka dotty-elephants. Who says that elephant must be grey? At least not the one from Angelica's pocket!
If you are hungry, she could offer ice-creams, puddings, cheese… you name it!
LET YOUR IMAGINATIONS GO WILD!
You and your children would be WOW-ed with all the surprises coming out from her pockets. It is definitely a loud book that will trigger lots of laughters. You could list out the objects coming out from her pockets together with your children. You can even think, imagine and brainstorm of what else do you think Angelica has in her pockets.
There are some lines which include onomatopoeia, such as PAH-HEE, HAR_HUR, BEEP BEEP. You can definitely add on more of the object sounds as the story progresses.
Happy Reading with your child(ern)!
Do check out our children's book recommendation which covers a story by Oliver Jeffers: Once Upon an Alphabet.